Dante's Presents
LEGENDARY SHACK SHAKERS with The Stubborn Lovers and Seven Mile Lane
Thursday
October 17, 2019
9:00 pm
PDT
(Doors:

8:00 pm

)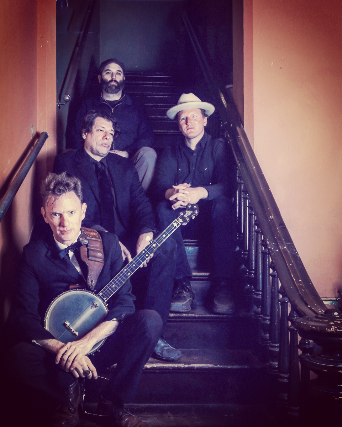 $12.00
Legendary Shack Shakers
The Legendary Shack Shakers' hell-for-leather roadshow has earned quite a name for itself with its unique brand of Southern Gothic and swampy "hillbilly blues" that is all-at-once irreverent, lyrical, dangerous, and fun. Led by their charismatic, rail-thin frontman and blues-harpist JD Wilkes, the Shack Shakers are a four-man wrecking crew from the South whose explosive interpretations of swamp blues, rock n' roll and hillbilly music have made fans, critics and legions of potential converts into true believers.
Between intermittent hiatuses to work on other projects (including JD's sideshow banner-style artwork for acts like The Squirrel Nut Zippers and Marty Stuart...plus his two published books The Vine That Ate the South and Barn Dances & Jamborees Across Kentucky), the band is constantly re-inventing and re-mobilizing, much to the excitement of many a Shack Shakers fanatic. Despite Wilkes' extracurricular projects, the Shakers' reputation for intense entertainment endures.
On stage, JD has been compared to the likes of Iggy Pop, David Byrne, and Jerry Lee Lewis. The Nashville Scene named Wilkes "the best frontman in Nashville", while former Dead Kennedys frontman Jello Biafra has called JD "the last great Rock and Roll frontman." Guitar virtuoso, Gary Siperko (Pere Ubu, Rocket from the Tombs) intones a variety of strains, from garage blues to gypsy jazz, while the rhythm section rounds out with Preston Corn (The Dirt Daubers) on percussion and Fuller Condon (Two Man Gentlemen Band) thumping the upright bass.
Although not necessarily "legendary" upon being named, the band has grown into its reputation the last several years due to their heavy tour schedule, seven critically acclaimed studio albums, and songs that have been featured on television shows such as HBO's True Blood, CBS's The Unit , Swamp Loggers, and movies like Julia Roberts' Duplicity. Past tour mates and fans include Sturgill Simpson, Reverend Horton Heat, Rancid, The Black Keys, Slim Cessna's Auto Club, and Hank Williams III. Robert Plant is also a noted Legendary Shack Shakers fan, and picked the band to open for him on his 2005 tour of Europe. Plant named the band's third album Believe as one of his favorite records of 2005. The list of esteemed admirers goes on to include horror novelist Stephen King, who listed "CB Song" as among his iPod's Top Five in a 2008 Entertainment Weekly article. Such a wealth of devoted, cult-like fans over the years has only added to the mystique that the Legendary Shack Shakers possess, carrying them down the road toward new creative pursuits and intense new tunes.
The Stubborn Lovers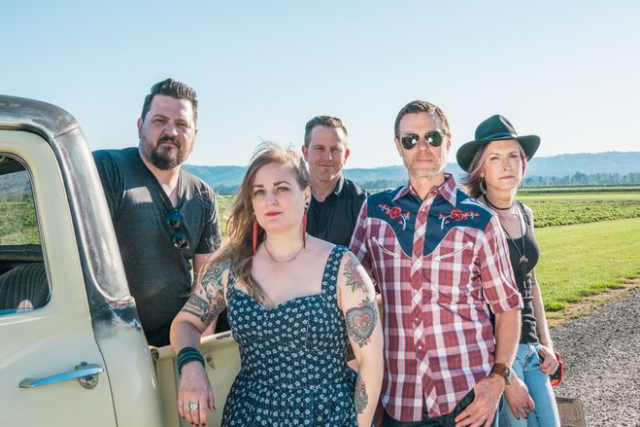 Alt-country, roots rock, Americana--whatever you call it, Portland, Oregon quintet The Stubborn Lovers make music that's steeped in tradition, yet remains as timeless and evergreen as the Northwest landscape from which they spring. Draping lush harmonies over a bed of acoustic, electric, and pedal steel guitars, along with bass and drums, they draw from the twin wellsprings of country and rock 'n' roll to create a spirited and engaging sound that's both familiar and fresh.
Seven Mile Lane
From the Cherry City comes Seven Mile Lane, a Pacific N.W. super group in Salem Oregon. Four rockers on a noble crusade to SAVE ROCK AND ROLL! This quartet combines a mix of working man's late 70's rock with a bit of rockabilly thrown in for for the fans who like to dance, then they rev it up with a punk rock beat that would make Joey Ramone proud. Their original songs show a wide variety of influences from such performers as Social D, Johnny Cash, Sex Pistols , The Who, Bad Religion and more!

The members of 7ML, Evan "Vinny" Dickinson, Arjay Flaherty, Jesse Ruggles, and Ted Morrison are no strangers to the stage or studio. Music lovers throughout Oregon know them from other bands such as Phamous Phaces, Dry County Crooks, and Catholic School Girls. They have combined experience of over 100 years between them, and their live performances are tight, energetic, and personable, because they want the fans to know they are part of the show!

After just 10 months of rehearsing, writing, and gigging together, Seven Mile Lane has just completed their first 6 song EP due for release in December 2018. Recorded at Wavelength Studio in Salem, OR, the debut album showcases the band influences with variety and excitement! And they look forward to releasing full length albums in the near future.

In 2019, Arjay left the band to focus on family. Seven Mile Lane brought in Danny Johnston to fill the drum throne. Danny has played with a number of bands in Salem including Blackbell and HWY .357

So check out Salem's Seven Mile Lane and enjoy the rock/billy/punk!