Dante's Presents
THE REVEREND PEYTON'S BIG DAMN BAND with Brett Benton
Monday
October 28, 2019
8:00 pm
PDT
(Doors:

7:00 pm

)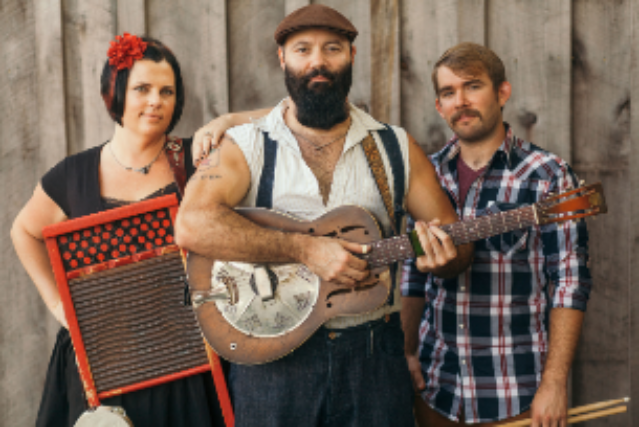 $15.00
The Reverend Peyton's Big Damn Band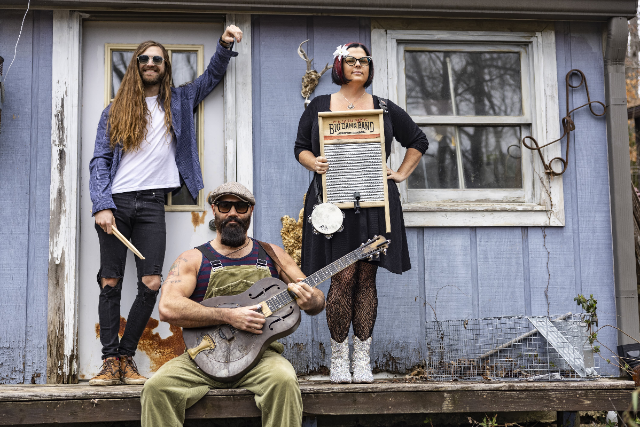 There aren't a lot of Warped Tour vets who can claim proficiency in the use of washboards, bottleneck slides and five-gallon buckets. Most didn't spend their teens playing along to Charlie Patton and Bukka White albums. And just about none are fronted by a commissioned member of the Honorary Order of Kentucky Colonels.
But the Reverend Peyton's Big Damn Band, who appeared for two weeks on the 2009 Warped Tour and will be on the entire 2010 tour, are all that and more. With wild sing-a-longs and flaming washboards, their live shows have been converting skeptics left and right.
Now, with the May 25 release of "The Wages," the soulful, swinging country-blues trio proves they're more than just a world class live band. Their second album for SideOneDummy Records, it was produced by Paul Mahern (Zero Boys, John Mellencamp) and recorded in the band's Big Damn Tradition: live in the studio with no overdubs on honest-to-goodness analog tape.
Appropriate to our times, "The Wages" is thematically rooted in the blues tradition of hard-bitten reality matched with enduring optimism.
There are songs that deal with crystal meth abuse and the disappearance of the American family farm ("In a Holler Over There"), the cost of living ("Everything's Raising"), unrequited love ("Sure Feels Like Rain") and, of course, murder ("Lick Creek Road").
But the Reverend's brood also celebrates rural life on "Born Bred Corn Fed," serves up danceable sing-a-longs like "Clap Your Hands," and offers renewed hope for hard times in "Just Getting By."
The Big Damn Band is very much a family affair, with the good reverend on finger-style resonator guitar and lead vocals, his wife "Washboard" Breezy Peyton on washboard and vocals, and distant cousin Aaron "Cuz" Persinger on drums and bucket. The band's home base is deep in the hills of Southern Indiana's Brown County, which boasts a population of 14,957. (Or 14,954 when the band's out on the road playing close to 250 gigs a year, including appearances at the Austin City Limits festival and tours with Flogging Molly, Derek Trucks, and Clutch.)
"I grew up in the country, and rural life and rural culture has shaped me and my music," says Reverend Peyton, who really is a Kentucky Colonel, just like Elvis Presley, Roy Rogers and Tiger Woods. "I have been playing music since I was a little kid. I am pretty sure we are on to something now."
That combination of authenticity and originality is evident throughout "The Wages," driven by the trio's big damn vocals and melodies, gutbucket guitar playing, and foot-stomping rhythms, all in service of songs that are honest and moving, devoid of irony or artifice.
"We may be few in numbers, but we sound big," says Washboard Breezy. "And I think we stand for something big too. Even if sometimes it's just that it is okay to be a regular person."
Brett Benton
Alabama-born and Southern-raised, Brett Benton has been obsessed with country blues ever since he was a child, listening to his parents' and grandparents' records at an early age. By his teens he was playing behind a drum kit, and by his early 20's was learning his way around slide guitar. Currently in the Pacific Northwest, he has played many regional and national festivals and venues and most recently he has signed to Knick Knack Records with his first studio album You Got To Pray released April 2019.
He has been on the same stages at venues and festivals with many artists of all calibers, including Grammy-Nominated artist Cedric Burnside (featured on his debut album You Got To Pray), International Blues Challenge award winning Selwyn Birchwood Band, internationally touring and BMA winning artists Walter Trout, Samantha Fish and The Reverend Peyton's Big Damn Band, and West Coast favorites HILLSTOMP. Known for his fierce rhythmic finger picking, melodic slide guitar and booming voice, Brett's raw style is best heard one of two ways: paying homage to its roots with solo, acoustic slide guitar; and electric alongside a heavy, relentless and dynamic style of drums that really emphasizes what country blues is all about… the hypnotic groove that gets folks up and dancing! For either style being played, both remain true to the nature of country blues – a style not played by many – while also retrofitted with grit and a bit of heaviness from the modern times. His music keep the fans moving and grooving!