DANTE'S PRESENTS
SCOTT BIRAM & JESSE DAYTON with Rod Melancon
Wednesday
April 11, 2018
9:00 pm
PDT
(Doors:

8:00 pm

)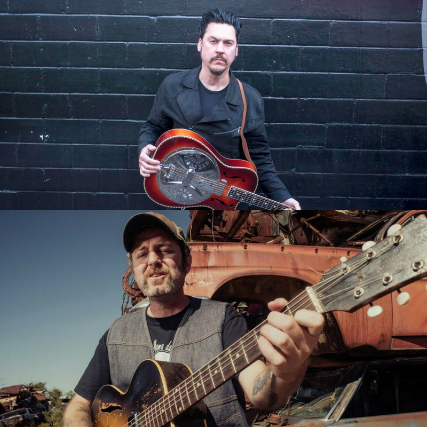 $13.00
Jesse Dayton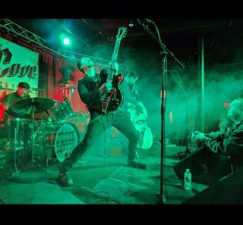 Jesse Dayton has been building a cult following around the globe playing festivals in North America and Europe for years with his guitar shredding, country-infused, Americana sound. As a critic's darling for his first record on Justice Records, Raisin' Cain (1995), and a number one Americana radio ranking, Jesse was hired at a young age to play lead guitar on some of the last recordings, and play live, by country legends Waylon Jennings, Ray Price, Johnny Bush, Willie Nelson & Glen Campbell and he's been featured in many guitar magazines. Sensing a shift in the music business climate, Jesse formed his own label in 2002, Stag Records, and began his most prolific recording period. While recording five solo records, one duet record, one live record, all on Stag, as well as two soundtrack recordings (Devil's Rejects, Halloween 2) for rocker/director Rob Zombie, Jesse managed to act in movies and music videos, produce several records for other artists (the latest being Supersuckers front man Eddie Spaghetti's "The Value Of Nothing" on Bloodshot Records), write two screenplays, and most recently wrote and directed a new horror movie, "Zombex," starring Malcolm McDowell, Sid Haig, John Doe, and Lew Temple ("Walking Dead). All while still performing 150 shows per year. Jesse landed the part of Kinky Friedman in Ted Swindley's stage production of "Becoming Kinky: The World According To Kinky Friedman," which ran for a few weeks and also led him to releasing a record of Kinky Friedman original songs called "Jesse Sings Kinky" which has opened up a whole new chapter for him with more radio airplay than ever in his career. As his film "Zombex" just got back from Cannes Film Festival, Jesse will be releasing the Zombex soundtrack which is steeped heavy in the Louisiana/Texas music of his youth. Before JD starts on his next film, he'll be on tour "brangin' it" with his all-star band of hotdog Austin musicians, playing to his faithful fans called "Hardchargers" around the globe. Don't miss this show!!!
Scott Biram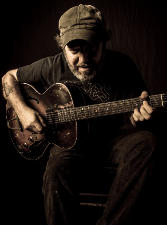 Something heavy is happening to Scott H. Biram. There he is, eyes rolling back in his head, arms outstretched, consumed with bliss, exhaustion, or guilt, being consigned to the old crimson river. In this moment, being baptized in blood might be Biram's dark epiphany, the 12 songs of Nothin' But Blood a conduit for an emotional fight or flight, relaying a deep personal grapple between the pure and the impure, good and bad, the beautiful dream and an ugly reality.
What in the past has been expressed through reeling irreverence and spirit-lifting profanity (which he's still got in spades; don't worry) is here a more penetrating, and chilling, version of The Dirty Old One Man Band-- self-examining and penitent, yet still as crazy as a jack-eyed preacher. On his ninth album (and fifth for Bloodshot Records) 'blood' is many, often inherently contradictory, themes: life, death, suffering, evil, commitment, legacy, atonement. Even in its title, 'Nothin' But' could mean 'all encompassing' or 'it's no big deal.' Literally, all or nothing.
There are songs where Biram -- the hard-living, whiskey-loving lifelong Texan -- howls of mortality ('When I Die'), sin ('Backdoor Man'), and guilt and frustration ('Slow & Easy'), all the while struggling with which side he'll end up on (and it probably ain't the one with golden halos and white wings). He deftly sews together a myriad of flawed everymancharacters: nostalgic, stoned veteran ('Nam Weed'); boozing, jealous lover ('Alcohol Blues'); and sadistic muses ('Church Point Girls').
The rousing Black Flag-meets-Son House boot-stomper 'Only Whiskey' punches a hole in the notion of temperance and rewrites the meaning of monogamy -- the story of a man so disillusioned with romance he reserves vice as his permanent bed partner. In 'Gotta Get to Heaven', fervent 'hallelujahs' allude to a youthful and impious Biram, who quit churchat 10 years-old but also found his life's calling when an African-American Baptist choir performed for his grade school.
Throughout Nothin' But Blood, recorded at Biram's home studio and Cacophony Studios in Austin, TX, SHB's distinct songwriting style encompasses his penchant for sludge metal and palm muting ('Around the Bend'), the raw sucker punch of punk rock ('Only Whiskey'), profound truths of sentimental acoustic blues and country ('Never Comin' Home'), the cleansing powers of gospel hymns and spiritual ballads ('When I Die'), and folk tales from the early 20th century (there has never been a more beautifully creepy and morosely slinky take on 'Jack of Diamonds').
When you boil it all down in a simmering cauldron, Nothin' But Blood is storytelling about wrongdoing and redemption. Scott H. Biram's music is from the soul, for the soul, of the soul -- and with this album, the spiritual buckshot lodges deeper than ever.
Rod Melancon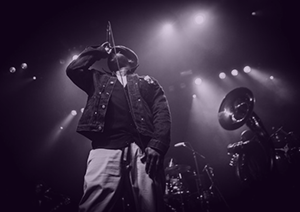 "I'm not sure what I'd label my music as. people ask what kind of music do you play and I say I don't really know. I love folk music and storytelling I guess it's just rock and roll." -Rod Melancon
If last year's EP, LA 14, gave us a taste of Rod Melancon's own darkly lit pilgrim's path as an artist and a writer, then his new full album release appropriately finds him taking root with the title, Southern Gothic, as he takes us further into the light and darkness of his own poetic vision based on tales of the people of his South Louisiana homeland. The album is further evidence that confirms the arrival of an important new artist on the horizon of the Americana music movement that has been sweeping the country charts.
Southern Gothic is a journey into the dark-and often twisted-night of the soul. It is the restless yearning of a young, new South that has been represented by The Drive By Truckers, Sturgill Simpson and Jason Isbell. With this fine new album, Melancon finds himself in their company and ready to take his well-deserved seat in the congregation as one of the finest Americana artists out today.
Just as Johnny Cash captured the Arkansas of his childhood and Springsteen brought Asbury Park alive for millions, Rod Melancon has brought the sound and feeling of South Louisiana's storied towns filled with conflicted characters. The sound is driven with a raucous blues that would make Lead Belly feel at home. Rod grew up in the shadow of Angola State Prison where the great bluesman made his home for many years.
On this cycle of songs, that sometimes plays like stories of his favorite author, Larry Brown, Melancon takes us deep in the swamp lands of South Louisiana, found in the bayous and small towns along the parish lines and the borders that dwell with the native sons of this often, unseen heartland where the stories wait to be told. There are ghosts to conjure up in the night fires and bayou jamborees. It takes a special artist to conjure up the soul of the land through song and story. It takes an artist possessed of a singular vision: Welcome to the world of Southern Gothic. It is a world that is uniquely Rod Melancon.