DANTE'S PRESENTS
CHANGE TODAY feat. JOE WOOD performing songs from his 10 years with TSOL with Bomb Squad + Dog Lord
Tuesday
February 25, 2020
9:00 pm
PST
(Doors:

8:00 pm

)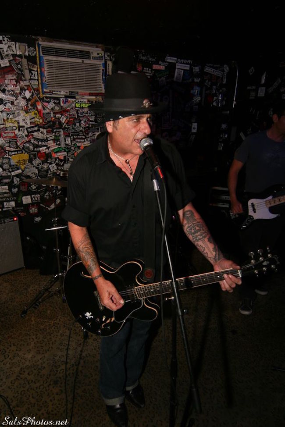 $12.00
Joe Wood
This artist replaced his brother-in-law in the T.S.O.L. band in 1983 and has been associated with that West Coast punk rock juggernaut ever since, along with his own projects such as Joe Wood & the Killing Floor and Joe Wood & the Lonely Ones. Despite the roadhouse blues sounds of the latter combo, this Joe Wood should not be confused with the earlier pianist and singer of the same name who performed and recorded with boogie boy John Lee Hooker. The versatility in terms of musical styles is definitely worth mentioning, however, as it is at the crux of listeners' feelings concerning Wood's contributions to the punk scene.

T.S.O.L. titans insist that Wood taking over for founding member and in-law Jack Grisham intensified the group's gothic aspects like several dollops of a spice tossed into a stew. With no genre feeding on divisions as much as punk, fans either found the combination diverting, even fascinating, while other listeners shook from a schizophrenia that eventually weakened the group's aesthetic presence. Wood's own punk rock days started in the late '70s, with an outfit known as Der Stab piercing local ears following Wood's own exposure to the Germs at a live gig.

He played bass in obviously unpopular the Hated in 1981, then was in front of his own Joe Wood & the Loners, putting in several years' worth of innovative work on a fusion of punk and blues, as if the initials in J.B. Lenoir stood for Jello Biafra. This valuable work was interrupted in 1983 due to the approach from T.S.O.L., an acronym for "True Sounds of Liberty." All major events involving this group subsequently feature Wood, including international tours, recordings, and film soundtrack appearances. Orange Wedge, a band and not a brand of LSD, is among the Wood solo projects when he's not involved with T.S.O.L.. Requests for vintage punk anthems bouncing off the monitors, Wood, in his third decade of music-making, polished up the Killing Floor band, also featuring Ray Rodriguez of Manic Hispanic on bass and vocals, regular Wood collaborator Steve O'Sullivan nailing in the drums, and guitarist Eric Groff, crawling out of the Love Canal and a previous politically incorrect on-stage persona amongst Arab & the Suburban Turbans.