DANTE'S PRESENTS
Larry and His Flask w/ Bridge City Sinners and The Mutineers
Friday
December 29, 2017
9:00 pm
PST
(Doors:

8:00 pm

)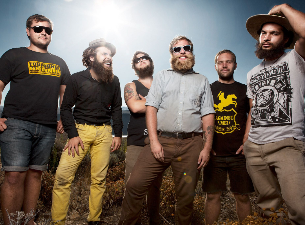 $17.00
Larry and His Flask
Larry and His Flask are a high energy, five-piece carnival of a band that incorporate rock, folk, bluegrass, soul, brass band, punk and alt-country into their own unique sound. Some people call what they do "folk-punk", others call it "a bluegrass traveling circus" and everyone who's seen them live rightfully call Larry and His Flask "down right WILD". But no matter what you call it, this is a band that has to be seen to be believed.
The Flask hails from central Oregon, smack dab in the middle of the beautiful Pacific Northwest, and is comprised of Jeshua Marshall on contra bass and baritone, Ian Cook on electric guitar and lead vocals, Andrew Carew on banjo, trombone and vocals, Dallin Bulkley on acoustic guitar and vocals, and Jamin Marshall on drums and vocals. Since brothers Jeshua and Jamin Marshall founded the band in 2003 the band has gone through several lineup changes and fundamental changes to their sound, but they have always held true to their reputation for an foot-stomping, mind-blowingly great time.
LAHF have toured the globe many times and have shared the stage with such acts as Streetlight Manifesto, Decendants, Wanda Jackson, The Dropkick Murphys, Lucero, Old Man Markley, Pokey Lafarge and the South City Three, Reverend Horton Heat, Strung Out, Trampled by Turtles, Less Than Jake, Against Me!, Andre Williams, Blackalicious, Gym Class Heroes, Paramore, Jenny Owen Young, and Frank Turner and the Sleeping Souls.
In any given performance audiences are guaranteed to hear harmonica, contra bass, electric and acoustic guitars, drums, banjo, trombone, trumpet and baritone horn as all five guys trade off instruments mid-song while careening back and forth across the stage in a punk rock ballet of sorts, narrowly avoiding collisions constantly.
Their love of old school country, folk, hip hop, gypsy jazz, and everything in between comes shining through in their full length albums "By The Lamplight" (released June 2013) and "All That We Know". They also released a critically-acclaimed 6-song EP ("Hobo's Lament") in 2012.
From street corners to barns, from squats to coffee shops, from dive bars to international music festivals, Larry and His Flask continue to bring their own brand of rock and roll to the people. Lauded by The New York Times as one of the most dynamic live shows around, The Flask strive to make sure that no one misses out on the fun. So, if they happen to be in your state, province or country do yourself a favor and check them out!
Bridge City Sinners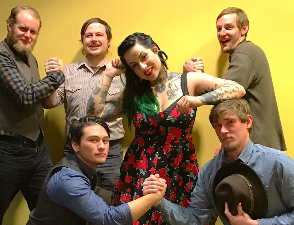 These are not your grandparents' traditional folk tunes. Bewitched and distorted, the Bridge City Sinners take pre-war American traditionals, songs about cats, and original tunes in the direction towards the soul of a punk rocker.
Lead singer Libby Lux and upright bass player Scott Michaud infrequently started playing music together on the streets of Portland, Oregon over six years ago. They would meet up without rehearsal nor a plan with other various street musicians to sing and yell at passer byers. Years before that, on their separate journeys, they traveled, hitch-hiked, and howled at the moon across the United States, Canada, and Mexico. In hobo fashion, they earned what they'd eat and roofs over their heads by the papers and coins tossed into their hat.
Through their years of wandering, they were able to pick up a rich catalog of songs passed through the traveling / busking community. In 2012, their mutual best friend and lead singer of folk-punk band Profane Sass, passed away when he fell off a train in Pittsburg, Pennsylvania. In a way the Bridge City Sinners are a homage to keep his spirit alive and continue passing along the music they all sang together on the streets, hidden in trains, and in living rooms across the continent.
Buckling down in the 2016, the Bridge City Sinners were formed. Adding two fellow travelers on washboard and guitar (Pitch Goose & Ben Barnes), a banjo sweet heart from West Virginia (Hunter Rukstad), and an elementary school music teacher on the clarinet (Ryan Duff). They blend their six voices into a mosaic of edgy harmonies and fervent joyfulness. They now have jobs; they now have stable living quarters. They will be touring in May of 2017 throughout the Pacific Northwest.
The Mutineers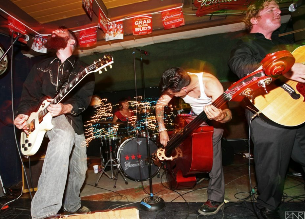 "Life's too short to play it safe," declare The Mutineers in unison on the song "Ace." Frontman and songwriter Brian Mathusek is not waiting around for things to get better. "Let's hit the road before it gets too late." Over the years, the singer and guitarist has roamed from East to West and many places in-between. Along the way, he has gathered stories of hope and fear, love and loss. Songs like "California" recall his experience struggling to make ends meet in a new town. In other early tunes, like "End of the World," he questions faith: "I want to know whose religion wins, and what counts as sin." Throughout Mathusek's writing there has always been an openness and honesty that comes straight from the heart.
Along with lifelong friend Michael Astudillo on acoustic guitar and not-yet wife Merry Young on drums, Mathusek and his fellow Mutineers created their own blend of twangy rock. The trio's first EP, Tidal Wave (2008), was well received in their home base of Santa Barbara with radio play on a few stations in California and Oregon. It wasn't long before they began to share stages with such artists as Langhorne Slim, The Devil Makes Three, The Reverend Peyton's Big Damn Band and The Tallest Man on Earth. Their second EP, Nihilisteria (2009), soon followed, revealing a more dynamic, slightly heavier sound, reminiscent of bands like X, The B-52s, The Pogues, and The Velvet Underground. In 2011, Terry Luna joined the band on stand-up bass and they headed back to the recording studio. From the Dirge to the Dance, their most recent work, includes 8 songs ranging from anthemic sing-alongs to crooning ballads. While some songs have a healthy dose of cynicism, some are also passionate outcries of hope and determination. There is a sense of nostalgia and a longing for permanence amidst the uncertainty of life's peaks and pitfalls. And of course, it couldn't be The Mutineers without a strong spirit of rebellion against the powers-that-be.
In the years that followed, the band built a loyal following locally and expanded their tour route to include stops in Las Vegas, Oregon, Idaho, Utah and a short string of shows in New York and New Jersey. They played to bigger crowds and most memorably shared stages with The White Buffalo, Murder By Death and Larry and His Flask. In 2013, the band returned to its roots again with the original three-piece lineup and continued playing in Southern California, touring up the West Coast to Portland, Oregon and working on new songs. Brian and Merry got married after a 15-year courtship and Michael became a bar owner, opening Seven Bar & Kitchen in Santa Barbara. In October of 2014, however, The Mutineers suffered a serious blow with the tragic loss of founding member, best friend and guitarist Michael. "It's been difficult to pick up the pieces. It is very hard to hear some of our songs without Michael's presence, not to mention the enormous vacancy left by his larger-than-life personality and boundless optimism," said Mathusek.
Now performing as a duo, Brian and Merry returned to Merry's home state of Oregon and currently reside in Southeast Portland where they will continue to play shows and run their graphic design and screen printing business, Mutiny Studios. The songs will sound different, to be sure--but they haven't lost their soul.
"Their country/folk/Americana/punk sound -- a mix of scrappy, stein-swinging anthems peppered with a few ambient, slow tracks -- is grounded by the band's constant energy, string talent, melodic harmonies, and strong rhythm section. By way of visceral folky lyrics, the Mutes offer happy music about hard times and the people living through them; these characters, like those in Springsteen's and countless other folk songs, represent those groups oft overlooked in today's media landscape and viral marketplace." --Santa Barbara Independent
"The Mutineers blend a variety of music styles into their own brand of rock and roll which transcends pretty much every label you can hurl at it." --SWAP ZINE
"Their live show delivers a potent and buoyant mix of Americana, folk, and good ole-fashioned bar rock...the soundtrack to the best bar crawl of your life." --Santa Barbara Independent