Hard Fall Hearts and The Brainiax CD Release show
Wednesday
August 16, 2017
9:00 pm
PDT
(Doors:

8:00 pm

)
$5.00
Hard Fall Hearts
Hard Fall Hearts are Bryan Kelly (Guitar, Vocals), Eli Rinek (Drums, Vocals), and Andrew Verdugo (Upright Bass, Vocals). Hailing from San Diego, this Punk/Rockabilly outfit is here to stay through the blood sweat and tears! Hard Fall Hearts' sound is both dark and distinct yet reverent to the roots of rock-n-roll. As always pressing the pedal to the metal these boys have been playing great SoCal/Regional venues, Europe, Scandinavia, and US tours for the past 9 years.
In March of 2008 front man Bryan Kelly captured the attention of Drummer Eli Rinek and Upright Bassist Ian Watson a.k.a. "Rocket" with his haunting melodies. With the manic slapping style of Rocket uniquely complimenting the steady, hard driving back beats from Eli, HFH was born! Playing a show 24 hours after their first rehearsal these boys knew they were firing on all cylinders! In fact, that in itself motivated the title of their debut album, 'Last 24 Hours', released in October of 2008.
Utilizing their creative momentum, HFH finished recording their second album 'To All Believers' in Jan of 2010 and it was released on Double Barrel Records on March 26th 2010. That coincided with a 6 week tour of Europe and a US tour in early 2011. After some personnel changes on Bass, Kyle Olson a.k.a. "KRO" joined the band for a 5 week tour of Europe in June of 2012. Kyle played all Bass tracks for the current EP titled 'Die Before, We Die' released in October of 2013 on Splatterhouse Wreckords. Andrew Verdugo joined the band in Dec. of 2012 and is the "new face on bass!" Andrew has now been a part of HFH for 5 years and has completed several US/Regional tours and a European tour in Sept.-Oct. of 2014. 2016 was a busy year as we released a live album titled 'Live at the Merrow' on Splatterhouse Wreckords. We included two studio tracks and released the single "The Devil Lives Downstream" coinciding with an official video released Dec 1st 2016. 2017 is upon us and HFH will be busy on the road again. Plenty of US tour dates as usual and their 4th European tour scheduled for October 26th-November 19th 2017. Keep a lookout for us in a town, city, or village near you!!
These boys are definitely a band you'll wanna keep your eye on. Making friends and fans one show at a time, Hard Fall Hearts are sure to turn any dull day into a wild night!
The Brainiax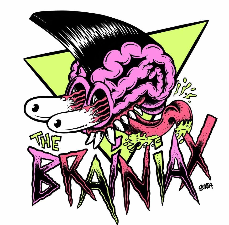 Psychobily from Portland, Oregon!