OCEANS OF MARS with Samvega
Thursday
June 22, 2017
9:00 pm
PDT
(Doors:

8:00 pm

)
$5.00
Oceans of Mars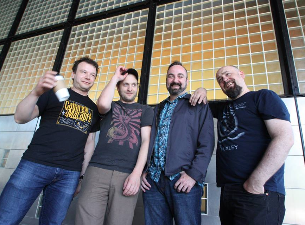 Oceans of Mars brings together four hand-picked veterans of the Northwest music scene to make the most outrageous and entertaining punk band imaginable. Oceans of Mars' sound is noisy and raw, with an old-school punk feel; clever, humorous lyrics; and songs that easily get stuck in your head. Songs are written with the intention of being as goofy, heavy, and catchy as possible and range in theme from a love of nachos and beer to a birthday party for Satan. Band members often wear ridiculous costumes for no reason and utilize stage props whenever possible. But don't be fooled by the humor and light-hearted approach - this band cranks out well-crafted, hard-hitting, high-energy punk rock.
Long ago, in the aftermath of a bloody rebellion, the defeated ruling class, fearing impending extermination by closing rebel forces, fled their solar system to an unknown part of the galaxy. They discovered two inhabitable planets, both covered by vast oceans. Barely able to navigate their badly damaged craft and with few remaining options, they crash landed on the closer of the two planets and began to rebuild a new life. They prospered for many years, surviving on plentiful insect and aquatic life and limited resources, until a violent impact with the planet's moon sheered off a portion of the planet creating a second moon. The impact blasted the planet's atmosphere into the vacuum of space and vaporized its oceans. In the chaos that followed, the strongest and most vicious of the group claimed the lone spacecraft, still in disrepair and able to carry only a small fraction of the remaining inhabitants. Leaving the others to die in a dying world, they escaped to the nearest planet where their craft was destroyed upon landing. Once again, they had to start over in a new world, and they vowed never again to speak of those they'd left behind at the Oceans of Mars.
Samvega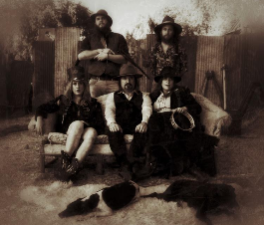 "Band of artists, painters, builders, music makers, merriment creators, travelers, animal lovers, urban vacationers, beach combers, rust farmers, star gazers, book readers and barn dwellers..." ~Samvega
Samvega's energy of sound is a contagious chameleon. The five piece band makes music on an art farm in Northern California, where they have created their very own brand of psychedelic, dark circus rock.
They are underground artists with DIY minds, breaking music into a subway of the subconscious that tantalizes the head like a crossword puzzle on a carousel. Dealing cards of self inspection, moody angst, and soap box circus, they move along the underbelly in search of the world and take you along for the ride.
Samvega has currently released their third album titled, " The King is Asleep". The remainder of 2016 includes a vinyl and music video release show in San Francisco and a national tour in October and November.