GOOFERMAN with Lovebomb Go-Go followed by The Klown (closing DJ set)
Saturday
May 6, 2017
10:00 pm
PDT
(Doors:

9:30 pm

)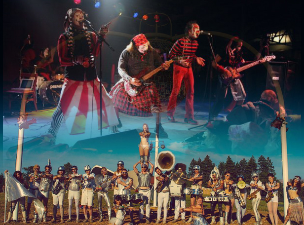 $10.00 - $15.00
Gooferman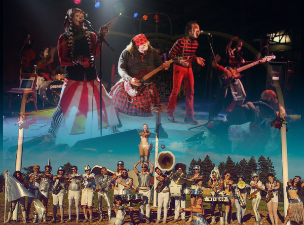 Behold Gooferman, an ever-morphing micro circus of klown-fi and wanton circus performers built on an entirely unique bedrock of breakbeat, funk, drum & bass, reggaeton, rock, hip hop, and whirled beat, all parlayed to the audiences of the world by a new-fangled, super-styled breed of klown (and headquartered in San Francisco).
Gooferman's performed throughout the US — including festival appearances at Outside Lands, Electric Daisy Carnival, Bumbershoot, Symbiosis Gathering, Lightning In A Bottle, New Orleans Jazz Festival, Vegoose, Download Festival, Burning Man, Lagunitas Beer Circus, and the 2008 944 Superbowl VIP Party — while purveying their signature klown-fi through endless locally and regionally slotted high-octane, micro-circus spectacles both above- and underground (including SF's acclaimed Bohemian Carnival, with co-host and frequent collaborator, the Vau de Vire Society). They've opened for 50 Cent and Wyclef Jean, performed with Paul Oakenfold, collaborated with Angelo Moore (of Fishbone), and shared billing with the likes of Primus, Spoon, Ween, Flaming Lips, G Love & Special Sauce, Dave Matthews, Gogol Bordello, Beats Antique, and Devotchka, among others.
LoveBomb Go-Go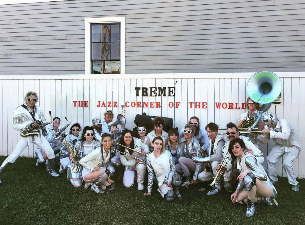 Genre-Smashing Horn-Driven Intergalactic Glam Performance Band
The Klown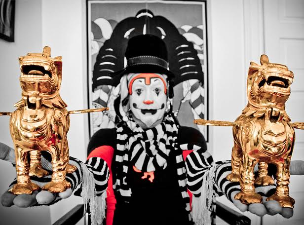 Based in the cartoon zoo known worldwide as San Francisco, The Klown is a double-decade veteran of the City's revolutionary, trendsetting, underground live-music, EDM, and circus scenes, as well as one of its premier underbelly promoter-producers. In true renaissance-ape fashion, he creates his signature eclectic glitch-rich, swing-blinged, booty-rooty, bass-music mixes by tattooing bulgy-eyed goldfish with electroluminescent hieroglyphs, setting them loose in a plate-glass fishbowl brimming with proprietary LSD-laced soda water, and then monitoring their interactions and navigation patterns to derive directional inspiration. It's dangerous work, and should never ever be tried at home without some kind of proper inattentive adult-agnostic supervision.
Along with his yeti-descended and longtime co-misadventurist Delachaux, The Klown produces and residents Trapeze Worldwide, the internationally acclaimed US-flagship bass music and burlesque showcase dance party supremisto. He also founded and runs the SF-based circus collective and event production company, Circus Metropolus; founded and fronts the notorious electrofunk all-klown band Gooferman; co-founded the successfully degenerate all-klown marching outfit TrashKan Marchink Band; and regularly works with the inimitable Vau de Vire Society as well as independently. While not pursuing third place with all his might, he enjoys his Kween'n'pygmies, watching humanity deal with itself, ingesting Lagunitas Brewing Co beer, monitoring UFO, bigfoot and adult-content developments, and staying up late.