SCOTT H. BIRAM with Jesse Dayton and Alien Knife Fight
Saturday
April 1, 2017
9:00 pm
PDT
(Doors:

8:00 pm

)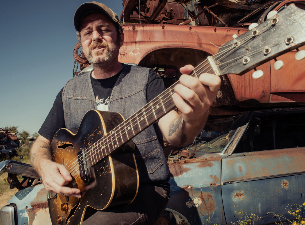 $16.00
Scott H. Biram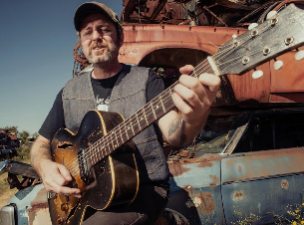 Rock 'n' Roll ain't pretty and neither is Scott H. Biram. The self proclaimed 'Dirty Old One Man Band' successfully, and sometimes violently, lashes together blues, hillbilly and country precariously to raucous punk and godless metal.

Biram ain't no candy-ass singer/songwriter either, sweetly strumming songs about girls with big eyes and dusty highways. His singing, yodeling, growling, leering and brash preachin' and hollerin' is accompanied by sloppy riffs and licks from his '59 Gibson guitar and pounding backbeat brought forth by his amplified left foot. The remainder of this one-man band consists of an unwieldy combination of beat-up amplifiers and old microphones strung together by a tangled mess of guitar cables.

Years of non-stop touring have honed his assault to a fine edge; his wide-eyed throw downs in the First Church of Ultimate Fanaticism routinely lead giddy followers to a fiery baptism.

Scott H. Biram won't die. On May 11th, 2003, one month after being hit head-on by an 18-wheeler at 75 MPH, he took the stage at The Continental Club in Austin, TX in a wheel chair – I.V. still dangling from his arm. With 2 broken legs, a broken foot, a broken arm and 1 foot less of his lower intestine, Biram unleashed his trademark musical wrath.

When Scott H. Biram took the stage at his 2004 SXSW festival showcase right after Kris Kristofferson he was quoted as growling "They said that was a hard act to follow….I'm a hard act to follow motherfuckers!!" The stunned crowd looked on.

"Scott's self described 'dirty old one-man band' had a captivating immediacy that big rock shows rarely reach. On stage Scott is a man possessed, spitting and snarling like a Mississippi juke-joint shouter on a moonshine bender." – Eben Sterling, Thrasher

"He has a true stage presence that could be fairly compared to that of Clint Eastwood on film. The dude's more dude than most other dudes you will ever meet." – Austin Columnist

"An impassioned multi-instrumentalist unleashing a brutal cacophany with the fury of someone whose check from the Devil finally cleared. Half dirty blues, half underground punk, half honky-tonk, half revival meeting…oh shut up about the math. You'll see the light." – Dayna Papaleo, Rochester City News

"His barbarous exorcism of Depression-era blues—with a bedrock of frantic flatpicking, foot stomps into a floor mike, and gutteral growls through a distortion mike—has made Biram a rising star in Austin." – Brian T. Atkinson, No Depression

"Biram is the kind of guy you don't laugh at all the way just in case he really is crazy. We all wanna be entertained, but nobody wants to get stabbed in the head with a screwdriver." – Frank de Blase, Rochester City News

"With a raw immediacy that recalls Hasil Adkins and Bob Log III, Biram specializes in a twisted hybrid of gutbucket, hillbilly and godless metal. He'll praise the virtues of moonshine and titty bars one minute, then tongue-lash city slickers and hippies the next." – John La Briola, Houston Press
Jesse Dayton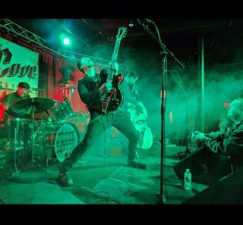 Jesse Dayton has been building a cult following around the globe playing festivals in North America and Europe for years with his guitar shredding, country-infused, Americana sound. As a critic's darling for his first record on Justice Records, Raisin' Cain (1995), and a number one Americana radio ranking, Jesse was hired at a young age to play lead guitar on some of the last recordings, and play live, by country legends Waylon Jennings, Ray Price, Johnny Bush, Willie Nelson & Glen Campbell and he's been featured in many guitar magazines. Sensing a shift in the music business climate, Jesse formed his own label in 2002, Stag Records, and began his most prolific recording period. While recording five solo records, one duet record, one live record, all on Stag, as well as two soundtrack recordings (Devil's Rejects, Halloween 2) for rocker/director Rob Zombie, Jesse managed to act in movies and music videos, produce several records for other artists (the latest being Supersuckers front man Eddie Spaghetti's "The Value Of Nothing" on Bloodshot Records), write two screenplays, and most recently wrote and directed a new horror movie, "Zombex," starring Malcolm McDowell, Sid Haig, John Doe, and Lew Temple ("Walking Dead). All while still performing 150 shows per year. Jesse landed the part of Kinky Friedman in Ted Swindley's stage production of "Becoming Kinky: The World According To Kinky Friedman," which ran for a few weeks and also led him to releasing a record of Kinky Friedman original songs called "Jesse Sings Kinky" which has opened up a whole new chapter for him with more radio airplay than ever in his career. As his film "Zombex" just got back from Cannes Film Festival, Jesse will be releasing the Zombex soundtrack which is steeped heavy in the Louisiana/Texas music of his youth. Before JD starts on his next film, he'll be on tour "brangin' it" with his all-star band of hotdog Austin musicians, playing to his faithful fans called "Hardchargers" around the globe. Don't miss this show!!!
Alien Knife Fight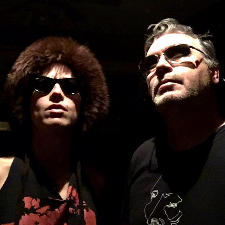 Based in the small, dusty junction town of Creedmoor, Texas (population 202) the creative duo Known as Alien Knife Fight craft their sound at all hours in their big, old 1930's era house/home studio, situated on 3.6 acres that they call Big Bottom Farm.
Bassist/vocalist Monique Ortiz has been performing in duos for over 25 years mainly out of necessity. "I just couldn't find that third instrument that was the right fit, so rather than be hindered by that, I try to fill out the sound in other ways." Her first notable duo project, Bourbon Princess (1997), lead to over a decade of collaboration and with members of the band Morphine, which ultimately lead up to the formation of A.K.A.C.O.D., with Morphine saxophonist Dana Colley and Binary system drummer Larry Dersch.
In 2010 Monique moved from Boston to Austin, met multi-instrumentalist Michael Howard and started writing and recording music together. With Mike's primal beats and Monique's powerful vocals and growling 2-string slide bass and fretless bass playing, the two gradually shaped their sound into something sinister, sexy, soulful and groovy all at once.
Currently AKF are working on a new record with producer and former Melvins bassist Mark Deutrom. They plan on touring next spring, following the release of the new record. Monique also sings and plays bass in Mark's live vehicle, Bellringer.