MIKE THRASHER PRESENTS
WHISKEY MYERS with The Wans
Friday
March 10, 2017
9:00 pm
PST
(Doors:

8:00 pm

)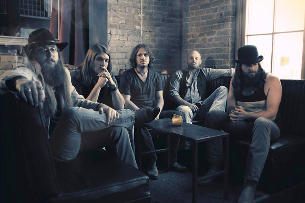 $18.00
WHISKEY MYERS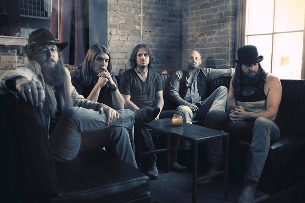 Loud and proud, they sing about what they know with a refreshing directness and clarity. Some call it rebel music, but it's more like everyday soul. Their songs are stories, with characters and situations that are immediately relatable. Stories of celebration, mourning, trials and triumph. Through the quality of these songs, and their undeniable power in concert and on record, the band has attracted a devoted army of outspoken fans who pack venues, sing the band's praises online and continue to make Whiskey Myers a growing word-of-mouth sensation.
Whiskey Myers' most recent full-length album, Firewater, was released on their own Wiggy Thump imprint in the spring of 2011. It continues to sell steadily, enjoying a remarkable run on the Texas Music Charts that culminated with its third single "Anna Marie" reaching #1. All over their home state, they are commanding larger and larger crowds, selling out 1,000-capacity venues with ease and delivering stadiumsized shows grounded in the sincerity and unpretentious, fun-loving energy of their bar-band roots. "Our fans always tell us how much they get out of seeing us play," says lead singer Cody Cannon, " but it's a two-way street; we get something, too. They inspire us to dedicate ourselves more and more to our music and our sound. And it sure feels like it's paying off."
As their chemistry onstage and in the studio reflect, Whiskey Myers is a brotherhood. The five members cut their teeth together, honing their chops side-by-side from an early age. Hailing from the Palestine, Texas area, Cannon was given an acoustic guitar by his "wild-ass biker" (Cody's words) grandpa, and guitarist John Jeffers's dad taught them both the rudiments of the instrument. A job at a sporting goods store introduced Cannon to future Whiskey Myers lead guitarist Cody Tate, forming the songwriting core of the band. Upon moving to Tyler, Texas, they picked up drummer Jeff Hogg and enlisted Cannon's cousin Gary Brown on bass--even though he'd never played the instrument before.
What came next was a blur of gigs, songs, struggles, and victories. With each show, their natural bond as friends continued to grow into a formidable musical telepathy and with each song they composed, their innate gifts as craftsmen were honed further. The resultant sound, so perfectly crystallized on Firewater, is hard-driving and immediate, steeped in the rich legacy of southern rock. Often reduced to a onedimensional stereotype, the kind of music that inspired Whiskey Myers--artists like Lynyrd Skynyrd, the Allman Brothers, and Hank Williams, Jr.--is actually multifaceted and inventive, drawing from country, R&B, psychedelic rock, and string band traditions.
In that tradition, Whiskey Myers are grand southern eclectics, pulling in an array of influences and seamlessly mingling them. Listeners can pick up traces of everything from grunge to rockabilly in the course of a set, united by Cannon's soulfully heartfelt singing and Brown and Hogg's solid, supple foundation. On top of it all, Tate and Jeffers intertwine their leads, soaring in harmony one moment, darting around one another in intricate improvisations the next. Sure, they're rousing--just cue up "Bar, Guitar, and a Honky Tonk Crowd" or "Turn It Up" for a dose of pile-driver intensity. But they're range is wide and expanding to encompass touching pleas like "Broken Window Serenade" and the acoustic stomp of "Anna Marie."
In Whiskey Myers' world, nothing is off-limits. Nothing is too personal, too sensitive, or too controversial to embrace and explore. Theirs is a confidence born of a long-standing brotherhood--a closeness that few groups can rival. "Well we all grew up together," bassist Brown explains. "We're two sets of cousins. Some of us have been friends since we were two or three years old."
Cannon picks up the thread immediately, adding "Plus, after six years touring in a van together, you know each other through and through. We know who we are, and try our best to stay true to ourselves and to our music."
The Wans
The best rock & roll doesn't have to be heady or pretentious--it has to hit you square between the thighs. The genre's name was always a feverish, rollicking euphemism for sex, and too often these days, that base, primal essence of what once made it so great is diluted to the point of powerlessness. Nashville band The Wans are a potent antidote to this lack of passion--a pure, concentrated shot of life-saving adrenaline stabbed straight into the flatlined heart of rock & roll.
Singer/guitarist Simon Kerr, bassist Thomas Bragg and drummer Mark Petaccia craft epic, unapologetic rock anthems with instantly memorable hooks built to last. Now gearing up for their third release, the new EP Run Baby Run, they've grown into impressive songwriters--not necessarily in the tradition of Bob Dylan or Leonard Cohen, but in the way a band like Led Zeppelin was able to uniquely fuse unforgettable guitar lines with wailing rock vocals, ushering in an era where it was impossible to separate song from performer
"We're basically a gang of pirates," Kerr says, "roaming from city to city and hoisting up our flag." But it's not just '70s stadium rock The Wans are pillaging. They also dabble in turn-of-the-Millennium garage revivalism a la The White Stripes and The Vines, and--above all else--'90s grunge, channeling Alice in Chains and Soundgarden in a way that incinerates the memory of every shitty nü-metal band those two pioneers inadvertently spawned, rewriting history as the space-time continuum branches off circa 1995, going in a different and much more fulfilling musical direction.
"Being in the band and knowing Mark and Thomas for this long inevitably translates to the songs," Kerr says. "When we're writing, we can be vulnerable. It's almost as if we're of the same mind, even down to the subconscious level. We're definitely coming into our own and finding our sound."
The hard-touring Wans have been on the rise for a while now, playing major festivals like Austin City Limits, Forecastle and Hangout Fest, and sharing bills with Pearl Jam, Beck and Queens of the Stone Age. They recorded their 2014 LP, He Said She Said, with Grammy-winning producer Dave Cobb (Jason Isbell, Sturgill Simpson, Chris Cornell), the acclaimed record landing them press at USA Today, NME, Consequence of Sound, Flavorwire, The AV Club and more. Not
only that, the band's music has been featured everywhere from major motion picture Point Break and TV shows like Nashville, Longmire and Necessary Roughness to a powerhouse commercial for BMW's 4 Series Gran Coupe, which was soundtracked by the band's muscular riff rocker "Black Pony."
The Wans' new six-song EP, Run Baby Run, was produced, recorded and mixed by Vance Powell (Jack White, Arctic Monkeys, Red Fang) at Sputnik Sound in Nashville using all vintage analog gear. The songs were fresh going in, a month old at most, and had only been played on acoustic up to the point they were recorded, so there was a lot of sculpting in the studio, the band experimenting with arrangements and instrumentation, adding Moog synths to sweeten a few of the tracks.
Run Baby Run is chock full of the two essential elements Iggy Pop once said were required to make real rock & roll--sex & danger, as many of the songs are vignettes and meditations on the band's wild, wanton encounters during a heavy season of touring. But the EP also takes some key inspiration from a less obvious place. "I was listening a lot to Kendrick Lamar's To Pimp a Butterfly, and it really blew me away," Kerr says. "I think some of the vocal rhythms on Run Baby Run--the way they flow, the lyrical cadence and delivery--were influenced by Kendrick in a big way."
With all of the rock & roll icons we've buried this year, it's high time the next generation of would-be heavy hitters steps up to the plate. It's a calling that is not lost on The Wans. "When Bowie died and released Blackstar earlier this year, it really affected us," Kerr says. "We ended up thinking a lot about exactly what it is that musicians do. With The Wans, we're more committed than we ever have been to leaving behind something of value. Something that--30 or 40 years down the road--will still have an impact. We aim to leave our mark."